Custom Websites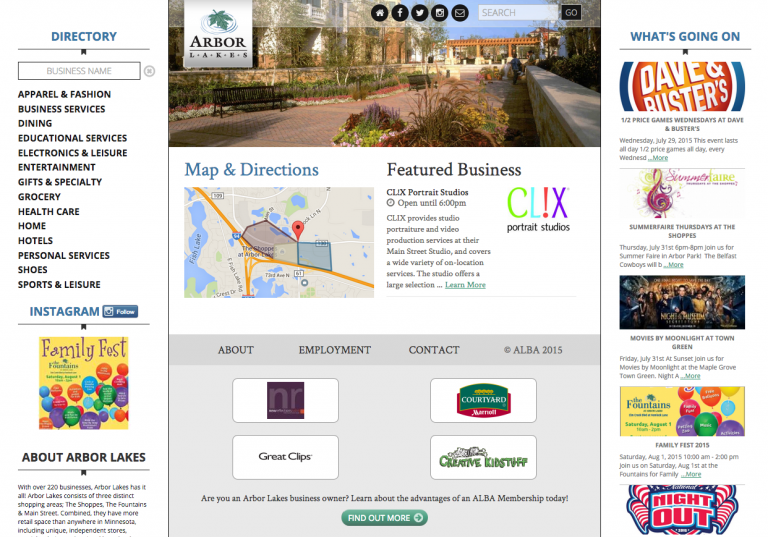 Arbor Lakes Business Association
With over 220 businesses, Arbor Lakes has it all! Arbor Lakes consists of three distinct shopping areas; The Shoppes, The Fountains & Main Street. Combined, they have more retail space than anywhere in Minnesota, including unique, independent stores, specialty chains and national brands, plus a wide variety of restaurants, and a top notch selection of personal and professional services including banking, financial, medical, dental, beauty and spa centers, and four hotels (one with a water park) to relax in at the end of the day.
With such a vast variety of businesses, ALBA needed to find a simple solution to make it easy for users to find what they needed as quickly as possible. We worked with their team to create a searchable business directory. This directory gives users all the information they are looking for including open hours, business phone numbers, and the business address which is linked to a google map to get directions.
Arbor Lakes Business Association also wanted to find a way to incorporate social media into their new website to encourage community involvement and make a better connection with their visitors. We accomplished this by adding an Instagram and Twitter feed to the main framework of the site appearing on the left and right sidebars. We also added a blog that can be used to post local events happening at Arbor Lakes as well as any promotions that may be going on.
Another requirement for ALBA was to make the new site accessible across all mobile devices and  tablets. We accomplished this using a three-column layout that adjusts depending on the screen size as well as using responsive design. This gives users the same great experience no matter which device they are using and allows for quick load times.
Check out the project for yourself: www.arborlakes.net
Currents
Currents isn't just an apartment complex, it's a community! They are known for providing residents with a wide array of convenient and luxurious amenities, as well as for being extremely pet friendly. Currents knew what they wanted when they came to us- and we were happy to make their vision come true! Their website is responsively accessible across devices, with key information and beautiful, flexible imagery carefully placed throughout. The Floorplans & Features plugin was built specifically according to their needs, enabling them to showcase their many residence layouts with specs and printable PDF documents, all in one easy-to-navigate area.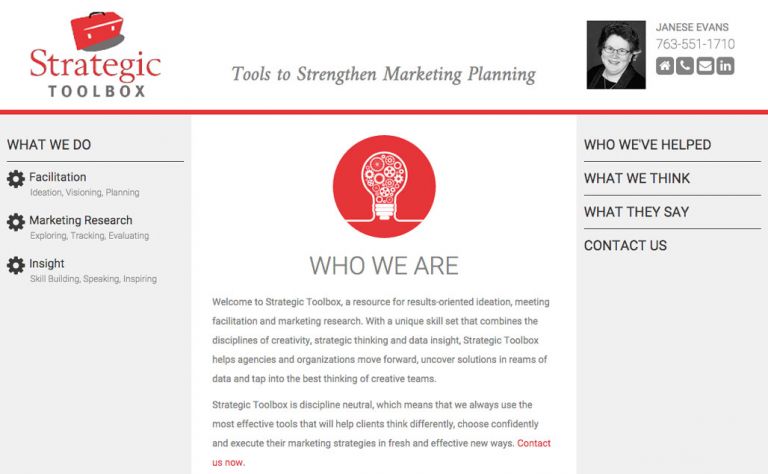 Strategic Toolbox
Strategic Toolbox is a resource for results-oriented ideation, meeting facilitation and marketing research. With a unique skill set that combines the disciplines of creativity, strategic thinking and data insight, Strategic Toolbox helps agencies and organizations move forward, uncover solutions in reams of data and tap into the best thinking of creative teams.
Strategic Toolbox is discipline neutral, which means that they always use the most effective tools that will help clients think differently, choose confidently and execute their marketing strategies in fresh and effective new ways. 
Owner Janese Evans came to us in Spring 2015, wanting to create a website that was simple, clean, and easy to navigate as well as fully-responsive across all mobile devices. We came up with this unique three-column design that transitions its look depending on the device size, turning columns into pop-out menus at the smaller screen sizes. We kept it simple as well as making sure to stick to her brand image. On top of the sleek design, Janese is now able to update her website without any programming knowledge after a single one-hour training session. 
View the project here: www.strategictoolbox.com